Need Help?
Please feel free to contact us for any questions or further inquires. We will get back to you shortly. If this is an emergency, please call and someone will assist you right away.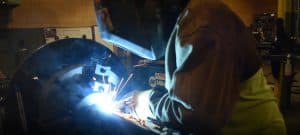 MSD fabrication team utilizes state of the art software and processes to deliver our clients with high quality assemblies to accelerate project schedules, while reducing material waste and increasing jobsite safety. Our fabrication process involves identifying key system components consisting of Mechanical Piping, Plumbing and HVAC Duct Systems that can be assembled in a safe working and controlled environment, allowing for increased focus on safely assembling high quality products. Our quality control is monitored through our multiple step process ensuring accurate and on time delivery of each system application for installation. Utilizing our in-house pre-fabrication team increases the product quality as well as the QUANTITY produced, accelerating the overall timeframes associated with individual field activities.
MSD fabrication shop uitilizes leading edge technology to meet the demands of the accelerated schedules in today's market with fully coordinated fabrication drawings, proper planning, quality fabricated product, on time logistics, resulting in simplified field installation for our team.
PIPING Systems
MSD Fabrication Detparment utilizes our modern technology and equipment in assuring our pipe fabrication assemblies and components are delivered in a efficient and accurate process. Our piping material is cut and generated through the use of our in house fabrication software that utilzies linear nesting to reduce overall waste. Our in house fabrication department has certified ASME welders responsible for executing our work orders throughout the different stages of the pipe fabrication process. At the completion of the pipe fabrication process our assemblies and components are reviewed for quality control measures, assuring 100% accuracy prior to leaving our facility.
OUR CAPABILITIES
Complex weld spool assemblies
Mechanical piping racks
In house testing/ fit up
Compressed air piping
Mechanical Skids
Pump skid
Boiler skid
Heat exchanger skid
Plumbing Systems
Our in house fabrication department specialzies in identifying key plumbing systems and components that can be fabricated to safely accelerate high quality products for the overall installation of your plumbing systems. When it comes to protecting the public health of your facility, its critical that your plumbing systems are operating efficiently, effectively and within industry code compliance standards to help protect the people within your building. Our fabrication team is committed to identifying the key plumbing system components that can be assembled to safely deliver high quality plumbing solutions for your facility.
Stainless Domestic water piping
Domestic water service racks
Specialized plastics
Restroom carrier groups
Mixing valves
Plumbing fixtures
Water heater skid
Trench drain assemblies
Backflow preventers
Pressure reducing stations
Ungerground plumbing systems
Water service piping
In wall waste/vent water piping
Med gas in wall/ Racks
HVAC Duct Systems
MSD Fabrication department is committed to enhancing the installation of your facility HVAC systems by combining our expertise of fabrication and manufacturing allowing for piping and ductwork assemblies to connect at the HVAC equipment. This process reduces our overall field hours while increasing overall quality control measures. This process requires a high level of internal coordination where different assemblies are connected to accelerate overall onsite installation.
Stainless Welded duct / fittings
Grease duct assembly
VAV box assembly with piping kit
Slip and drive duct assembly
Man bars
High temp stainless exhaust
Specialized fabrication
MSD Fabrication department is committed to thinking outside the box, to address the needs that surface within our clients facilities. Our fabrication team is committed and engaged with listening to understand the pain that surfaces, so we can focus on developing effective and efficient solutions that assure high quality standards are delivered. As a solutions provider the ultimate focus is to remove any and all roadblocks for our clients within their facility by thinking outside the box in developing solutions that convert our clients dreams into a reality!
Custom supports
Bollards
Equipment stands
Concrete pads
Handrails
Ladder guards
Job or task specific carts